Photo Tours of Antelope Canyon
In our last installment of our Photo Tours of Antelope Canyon series we talked about the difference between photo tours for amateurs and tours for serious photographers. In this post, we give the serious or wannabe serious photographers some tips and tricks to make the experience even better.
There are four main considerations when planning a photography tour of Antelope Canyon:
Which canyon to visit – Upper or Lower?
What time of year to go?
What time of day to go?
What equipment to take?

Of course all of these decisions are completely arbitrary, but here are some basic considerations to ponder before making your trip:
If you want to see shafts of light, visit the Upper Canyon during the summer months from 11 am to 2 pm. Upper Canyon is the most visited.

Lower Canyon is less crowded. You will not see the light shafts reach the canyon floor, but will still see beautiful light and shadows created by the sun. Early morning or late afternoon are the best times and although the summer provides the most abundant sunlight, even the winter months can produce some amazing effects.
If you decide to shoot both canyons on the same day, try to shoot the Lower Canyon from 8-10 am, then the Upper Canyon at noon. Save your receipt so that you will not have to pay the tribal fee of $6.00 twice.
Once you've decided to make the trip to Antelope Canyon you need to get busy. After you have chosen a photo tour company and made your reservations, you need to begin planning for the day of your shoot. The equipment you decide to use will dictate your success or disappointment in the photographs that you take home with you.
Bring Your Best Equipment
Your equipment will also be scrutinized by the tour company. If you are applying to photograph either the Upper or Lower Canyon, you will need an SLR camera – not a point and shoot. And you will need a professional tripod such as a Gitzo – not a Joby or Gorilla type amateur one. Try to get a tripod with a narrow stance due to the crowds of people that will be around you.
The Navajo's will not issue a photography permit if you don't have serious equipment. If you show up with a point and shoot, or an iPhone, you can take a regular tour, but not a photo tour. A photo tour allows you more time for set up of your equipment, and the tour guides will hold back the masses for a bit to allow you to shoot without people wandering through your shot.
You are in control of all of the equipment and planning factors, but there is one overriding factor that you do not have control over, and that is the crowds of people that you will have to contend with.
Dealing With The Crowds
Since Antelope Canyon is quite possibly the most photographed slot canyon in the world, there is a good chance you will be trying to take pictures with 100 – 200 other people in the canyon with you at the same time. This occurs mostly in the Upper Canyon; the Lower Canyon affords more time for set up and less chance of having a stranger in your photo.
Keep in mind that the floor of the canyon is sand and with a horde of people walking about and constantly moving, there will be dust in the air at all times. This fine dust can wreak havoc on your camera and lens.
Some people will try to change lenses to experiment with achieving different effects in their photographs. A word to the wise; if you can avoid changing lenses, you will stand less chance of damaging your equipment. The best case scenario is to have different cameras equipped with different lenses.
Be Prepared
Besides your cameras and lenses, here are a few items you should consider taking:
A can of compressed air

Good quality tripod and

cable release

to trigger the camera

Small flashlight

Quart size Zip Lock Bags – for cameras and lenses

Lens cleaner and microfiber cloth

Electrical tape or wide rubber bands to seal the lens ring area

Cash – the tours don't accept credit cards

Water – it is best to have a

backpack bladder type

container with a rubber hose – keeps your hands free to operate your equipment in less time

Long,

lightweight pants

instead of shorts – you will be doing a lot of kneeling and your knees can take a beating

Extra batteries and memory card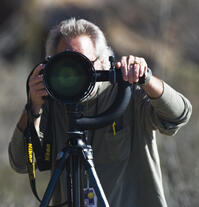 Photographers that have visited advise that you bring the widest angle lens you own, as well as a telephoto. If you don't own the proper lens, you can rent them from some specialty camera stores. Leave your polarizing filters at home – the canyons are low lighting. And don't use a flash – it may ruin another person's shot and will probably wash out the colors.
Don't forget to look upward. While people are milling around and you can't seem to get a good shot, shooting the crevices straight up can produce some dazzling results.
Best Settings and Lenses
Settings:
Turn off image stabilization for the ability to change focal points

Consider shooting in the manual mode – RAW. F-stop should be F-11 to F-18.

Shutter should remain open for 2-6 seconds

Check your red histogram to make sure it is not over saturated and try for a display of 4 histograms

If your camera has a mirror lock up feature, enable it

Set the ISO higher than usual, between 200-400

Don't use live view – you won't have time – instead, practice with manual settings ahead of time
Lenses:
Take both a wide angle and a zoom or a combination

Photographers report very good results using a 24-105 or a 70-110mm

A 16-35 zoom should also work very well

Zeiss 21mm f2.8 Distagon

has done well in the canyons
Whether you are a rank amateur, or a professional photographer, the slot canyons of Arizona are a must visit. Just remember to pack the right equipment and bring plenty of patience. And lastly, have a good time. Antelope Canyon is one of the most beautiful places on earth and the wonderful thing about photographs is the ability to revisit and share with others.